Capsicum curry to boost immunity 
 
In this weather, one important thing to be followed is to increase our immunity. All the necessary safety measures should be followed to increase immunity.
Our body should not only be protected from cold and common infections but also it's necessary to take precautions against serious illness. As they say, Precaution is Better than Cure, it is better to follow it.
So let us see the preparation of Capsicum Curry to Boost Immunity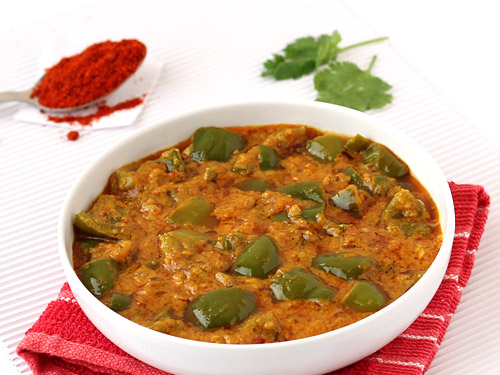 Required Ingredients :-
For Masala Paste :-
2 tbsp peanuts
1 tbsp sesame oil
2 tsp oil
1 tsp coriander seeds
½ tsp cumin
¼ tsp methi
Few curry leaves
6 dried red chili
1/4 cup dry coconut
For Curry :-
2 tbsp oil
1 tsp cumin
1/2 onion, finely chopped
1 tsp ginger garlic paste
1 capsicum, cubed
1 tomato, finely chopped
1/4 tsp turmeric
1 tsp salt
½ cup tamarind extract
2 tbsp coriander, chopped
Method of Preparation :-
Firstly, in a pan dry roast 2 tbsp peanuts until they turn crunchy and skin separates. Add in 1 tbsp sesame and roast until they turn aromatic.
Transfer to the small mixer and allow it to cool completely. Now in the same pan add 1 tsp coriander seeds, ½ tsp cumin, ¼ tsp methi.
roast for a minute.
Further add few curry leaves, 6 dried red chilies, and ¼ cup dry coconut. Roast until the coconut turns golden brown. Allow them to cool completely, and transfer to the same mixi.
Now blend to coarse powder without adding any water. Keep aside. In a large Kadai heat 2 tbsp oil and saute 1 tsp cumin.
Add in ½ onion followed by 1 tsp ginger garlic paste and saute well. Additionally add 1 capsicum, ½ onion, and saute for 2 minutes.
Saute until the onions shrink slightly. Further, add 1 tomato and saute well. Now add ¼ tsp turmeric, 1 tsp salt and mix well.
Add in prepared masala and saute for a minute.
Now add ½ cup tamarind extract and mix well.
Add water as required adjusting consistency.
Cover and cook for 10 minutes, or until oil separates.
finally, add 2 tbsp coriander and enjoy capsicum masala curry with roti.
READ MORE: Basil chutney to boost immunity
Recommended For You